Slashsquare is an Indian Blog Network and Web Consulting Media. It is founded and managed by Pradeep Kumar. Slashsquare network has blogs like HellBound Bloggers (HBB), MoviesDrop, and DeviceBAR active right now.
We provide services related to SEO, Social Media, Branding, Web Development and Marketing.
You can connect with us on Facebook, Twitter, Google+ and YouTube.
---
About Slashsquare
Slashsquare – Indian Blog Network | Web Consulting Media
Almost all our clients and contacts asked us the meaning of Slashsquare, but you can easily get the meaning when you see the logo. It's like a Square being Slashed or more clearly something is divided into two. If you are a big fan of this quote, then probably you can sense the meaning.
"The secret of getting ahead is getting started. The secret of getting started is breaking your complex overwhelming tasks into small manageable tasks, and then starting on the first one." – Mark Twain
Slashsquare is not just a Blog Network but also a Web Consulting Media. We provide some Services to make the web a better place. You can also stay close to Slashsquare [STATUS] blog for more updates.
---
Pradeep Kumar – CEO and Founder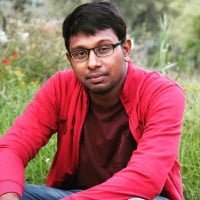 Pradeep Kumar is CEO and Founder of Slashsquare. Pradeep started Slashsquare network to bridge the gap between all his blogs and provide services which he is capable of.
He is a big fan of Blogging considering the fact not just it feeds him but also makes him worthy. You can also find his personal updates on spradeep.com.
He is a Blogger, Internet Marketer, Striving Entrepreneur, Atheist, and Proud Indian. Loves to hang out with friends, addicted to movies and music, wannabe photographer, tech lover, and pretty much living an internet life.
You can connect with him on Facebook, Twitter, Google+ and LinkedIn.